We're much more than eye exams!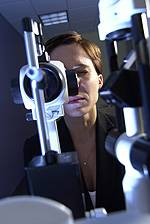 At Eye Fashion Optical we know your vision is important to you, it's important to us! Our office in Waco TX provides complete eye care for both adults and children. Dr. Gerdes' comprehensive eye exams will check your eyes inside and out for any potential eye diseases and disorders. Your visual skills and abilities are carefully evaluated and appropriate treatment is prescribed, whether it's medication, vision correction or visual therapy.
Dr. Gerdes eye doctor's office in Waco TX provides services that go far beyond just a routine eye exam.
Our List of Eye Care Services Include:
In office lab for faster economical production of eyeglass lenses
Comprehensive adult and pediatric eye exams
Large selection of frames all types of contact lens fittings
Optical dispensing with no cost frame adjustments
Diagnosis, treatment and/or management of eye disease such as glaucoma, cataracts, diabetic retinopathy and macular degeneration
Emergency care for eye injuries, eye infections, and allergies such as conjunctivitis (Pink Eye)
Treatment for dry, irritated or tearing eyes
Removal of foreign bodies
Evaluation and follow up care for laser vision correction
Visual Field testing and Retinal Imaging.